4,5-hour video: Introduction to TRIZ and Systematic Innovation
Our book: "Systematische Innovation"
(in German)

LATEST NEWS

UPCOMING EVENTS

InnovEx Asia 2016
Novermber 24-25, Bangalore, India

PAST NEWS AND EVENTS

ETRIA TRIZ Future 2015 Conference,
October 28-30, 2015, Berlin, Germany

The 11th MATRIZ International Conference TRIZfest 2015,
September 8-10, 2015
Seoul, South Korea

Workshop on TRIZ in Business and Management at PESTA 2014 Conference
November 12, 2014
Penang, Malaysia

Master-Class by Valeri Souhckov "A Worthy Goal: From Impossible to Possible" at International Conference Top Management 2014
November 29, 2014
Minsk, Belarus

ETRIA TRIZ Future 2014 Conference,
October 29-31, 2014, Lausanne, Switzerland

The 10th MATRIZ International Conference TRIZFest 2014,
September 4-6, 2014. Prague, Czech Republic

Article on TRIZ in Intermediair based on interviews with V. Souchkov and J. Stevens (in Dutch)

Free Download:
Glossary of TRIZ and TRIZ-Related Terms:
Over 360 terms explained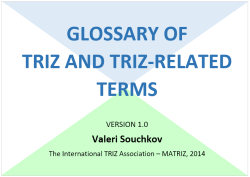 SYSTEMATIC INNOVATION WITH TRIZ AND xTRIZ
Our mission is to empower the world with TRIZ-based Systematic Innovation to bring finding breakthrough innovative ideas and solutions to a radically new level and assist our customers with transforming the fuzzy innovation front-end to a predictable and manageable process.
In addition to delivering our services we develop and implement new methods and tools based on a systematic approach for creative and innovative problem solving, new ideas generation, and innovation roadmapping.
xTRIZ is a framework of practical use of TRIZ which stands for "eXtended TRIZ" and complements classical TRIZ with a range of tools to enable the most effective approach to creative innovation.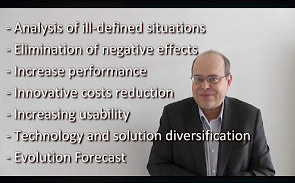 Watch 15 minutes video presentation of TRIZ and xTRIZ
WHAT WE DO
| | |
| --- | --- |
| | Train, certify, and coach our customers to reach the highest degree of competence with TRIZ, Systematic Innovation and Creative Imagination Development. We provide certification from the International TRIZ Association MATRIZ. |
| | Enrich idea-genration sessions with systematic methods. |
| | Help with generating and selecting best ideas to enable faster and better innovative problem solving. |
| | Help with exploring future opportunities for products, technologies and services. |
| | Help with improving innovative thinking skills and developing creative imagination. |
| | Convert the front-end of innovation to an organized and structured process. |
| | Help with increasing the degree of innovative productivity. |
| | Accelerate new intellectual property and value creation. |
Read more about our competence, our training and consulting services.
OUR EXPERIENCE
ICG Training and Consulting was founded in 2003 by Valeri Souchkov who has been assisting and training diverse categories of customers in TRIZ and Systematic Innovation worldwide since 1989.
Our training and consulting customer base includes more than 200 customer organizations from the following industries: automotive, aerospace, banking, ship building, civil engineering, electrical engineering, microelectronics, medical equipment, food manufacturing, information and telecommunication, software development, chemical, infrastructure, human resources, marketing, insurance.
Since 2005 we have been expanding our activities via certification and accreditation of trainers and professionals in TRIZ, xTRIZ and Systematic Innovation to various regions of the world. Currently our accredited trainers are available in Europe, Middle East and North Africa, and Asia Pacific.
We maintain strong cooperation links with the European TRIZ Association ETRIA and The International TRIZ Association MATRIZ.

Public Certification Training, 2017(I):
3-day Basic Innovative Problem Solving with TRIZ for Technology and Engineering
(MATRIZ Level 1)
February 1-3, 2017, Utrecht, Netherlands
3-day Basic Innovative Problem Solving with TRIZ for Business and Management
(MATRIZ Level 1)
March 1-3, 2017, Utrecht, Netherlands
5-day Advanced TRIZ for Technology and Engineering
(MATRIZ Level 2)
March 13-17, 2017, Utrecht, Netherlands
Systematic Creative Imagination Development
May 26, 2017, Utrecht, Netherlands
New Tools of Advanced TRIZ
May 9-12, 2017, Utrecht, Netherlands
Two-week Summer Course "TRIZ Fundamentals 2017" for Technology and Engineering
(MATRIZ Levels 1-2)
July 3-14, 2017,
Enschede, Netherlands
Interested in later dates or other courses?
Please contact us